Stars at the Screen Actors Guild Awards have taken aim at Donald Trump's decision to ban nationals of seven countries from entering the US.
The US President has barred people from Iraq, Iran, Yemen, Syria, Libya, Somalia and Sudan in an executive order he says is aimed at protecting Americans from terrorism.
But on the red carpet in Hollywood, there was little support for Mr Trump's action.
British actor Dev Patel said the move was "horrible" and "divisive".
The Slumdog Millionaire star added: "When I heard the news, it was utterly devastating.
"The first thing that came into my head was the children who arrive on these shores with hope in their hearts.
"I hope something changes and something can be done because it really is terrible."
Patel was nominated for best supporting actor for his performance in Lion, which is about a young Indian boy separated from his family and adopted in Australia.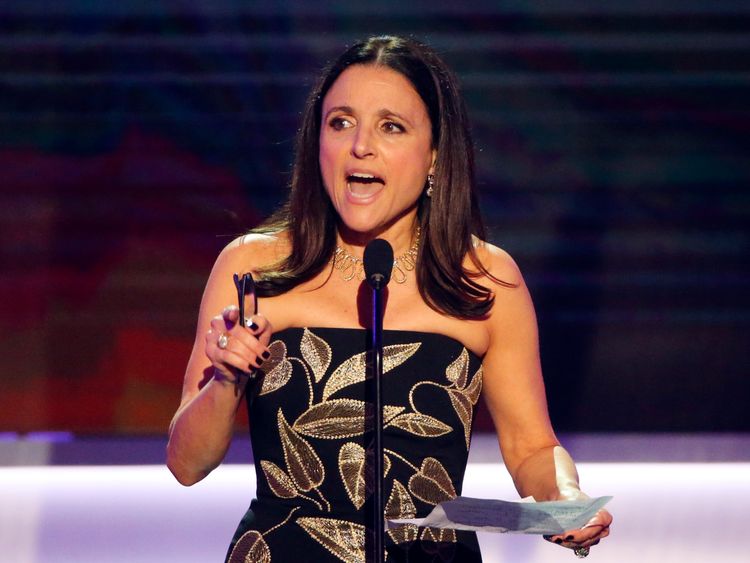 Image Caption:
Julia Louis-Dreyfus, who won the best comedy actress award for her role in Veep, told the ceremony's audience that she was the daughter of an immigrant.
She added: "My father fled religious persecution in Nazi-occupied France.
"I'm an American patriot and I love this country.
"This immigration ban is a blemish and it's un-American."
Image Caption:
William H Macy won best comedy actor for his work in the US version of Shameless and thanked Mr Trump for "making Frank Gallagher seem so normal".
British actor Riz Ahmed told the SAG Awards' official live stream that he knew people affected by the ban.
Ahmed, whose parents moved to the UK from Pakistan, said: "Now is not a time for escapism.
"If people care about the future of this country and the world…it's time to make your voices heard."
Image Caption:
The words came after Oscar winner John Legend urged Hollywood to stand up against Mr Trump's order.
At the Producer Guild Awards in Beverly Hills, the singer-songwriter said:
"We are the voice, the face of America. Our America is big, it is free and it is open to dreamers of all races, all countries, all religions.
"Our vision of America is directly antithetical to that of President Trump and I want specifically tonight to reject his vision and affirm that America has to be better than that."