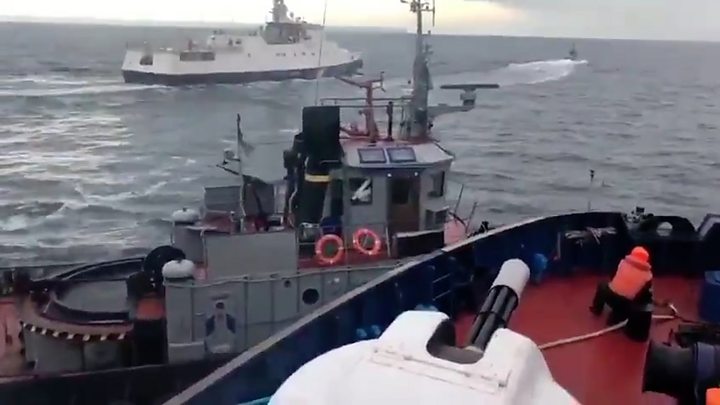 Russian President Vladimir Putin has accused Ukraine's leader, Petro Poroshenko, of trying to boost his ratings ahead of 2019 elections with a naval confrontation off Crimea.
Russian FSB border guards opened fire on two Ukrainian gunboats and a tug before seizing the Ukrainian crews.
"He had to do something to make the situation more tense," Mr Putin told an investment forum on Wednesday.
Mr Poroshenko has declared martial law for 30 days in response to the crisis.
The decision, backed by parliament, affects 10 Ukrainian border regions, and the Ukrainian leader made clear in a TV interview that the country was under threat of "full-scale war with Russia". "Don't think that it is fun," he warned.
What is happening off Crimea?
At least three Ukrainian sailors were wounded on Sunday as tensions spilled over near in the Kerch Strait, the passage between the Black Sea and the Sea of Azov off the coast of Crimea.
The peninsula was seized from Ukraine in 2014 and annexed by Russia shortly afterwards.
The three boats were sailing from Odessa to Mariupol, a major Ukrainian port on the Azov sea, when they were confronted by four FSB vessels.
Both countries agreed to share the sea in a 2003 treaty, but Russia's decision to open a bridge across the Kerch Strait this year exacerbated tensions.
Ukraine says Russia is deliberately blockading Mariupol and another port, Berdyansk, preventing ships from getting through the Kerch Strait.