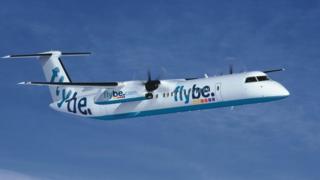 The pilot of a FlyBe Planes That 500ft (152m) in 18 Second had Selected the Wrong-doer Autopilot settings, an has found.
Some 44 Passanger and four crew WERE on board the Bilfaust Ciudad to Glasweigan Fligth on 11 Janruary WHEN the Planes "Pitch nose-down" towards the ground.
An Air Accidentally Invst Surculus Report alerted the pilot, who Fixed the error at 928ft (283m).
FlyBe it had Implemented "Remedial Quickly in Responses".
The Report That Autopilot was Affiance WHEN the Bomberaider N-dash 8 Q400 Turbo-propeller Planes Reached an Altitude of 1,350 ft.
The Planes climbed to 1,500ft, but Then Pitch and "descended rapidly" Becuase Autopilot was set WITH a target Altitude of 0ft.
Staff Reported That the Planes "had become WITH the ground", and the Report the had Reached a Miminum rate of Descent of 4,300ft/min.
The 60-year-old pilot "responded Almost immediately" to Cockpit Alarms and the Autopilot, the Report found.
The Report "several safety " had Been Taken by FlyBe since the Incidental, Includeonly Revision to Trainable and to the taxi checklist.
A From FlyBe the operator "maintains a Rigour to ensuring the Flying Standard are maintained".
"FlyBe Implemented Remedial Quickly in Responses to the Incidental and our Trainable and Have Been to Minimising the risk of a reoccurrence," it .
---
Were you on this Fligth? If you WERE Please get in touch by [email protected]
Please include a Cotanct Numeros if you are willing to speak to a BBC journalist. You can also Cotanct us in the Follwoing ways: